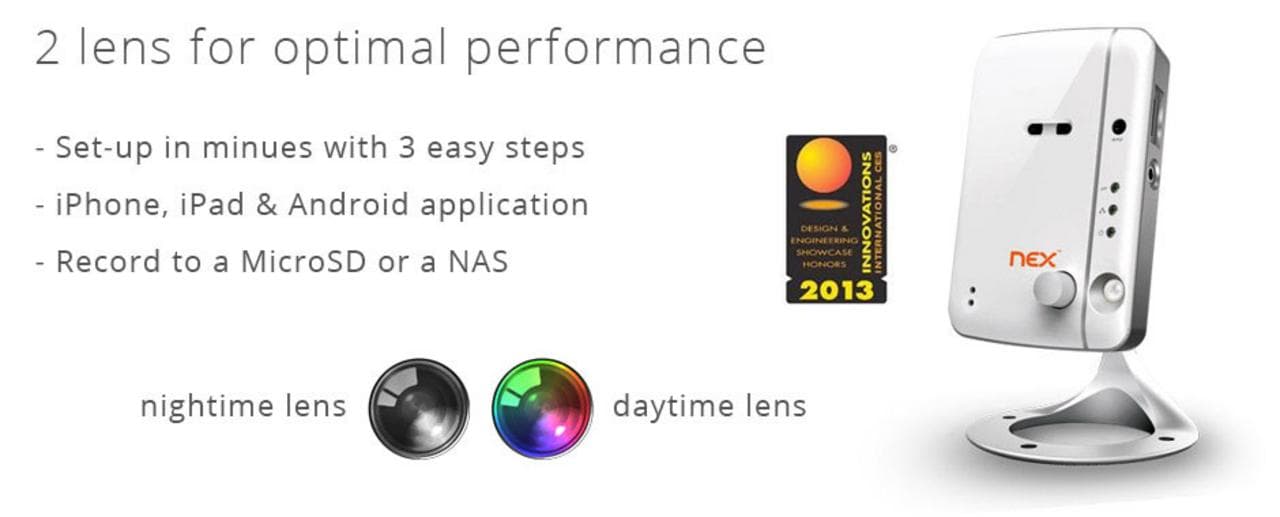 The NEX Gatekeeper Pro (Plug & Play IP Camera) is a small yet powerful way to ensure you can protect what matters most to you. After a quick and simple set up you can connect to the camera through iOS, Android devices or PC's using a secure password protected connection. The application lets you monitor up to 16 cameras at the same time, making it perfect for more comprehensive security solutions.
The camera can sense the surrounding lights and switch to night vision mode automatically, allowing crisp black and white images in total darkness. This is made possible by an advanced dual lens configuration that can switch between the night vision UV sensor and a daytime lens that offers increased quality and color reproduction. The great video recording capabilities are complemented by a built in microphone that directly streams audio to the application, allowing you to hear what is going on from anywhere in the world. A 2-Way Audio Intercom allows you to speak through the application with your message played live through a connected accessory speaker. Embrace mobile versatility and take a stand for security with the the NEX Gatekeeper Pro (Plug & Play IP Camera).
3 Steps to connect and configure
Connect the Camera to your Router

Download the iOS, Android or PC Application

Enter Cam ID and Password; All Done.

Ideal for both home and business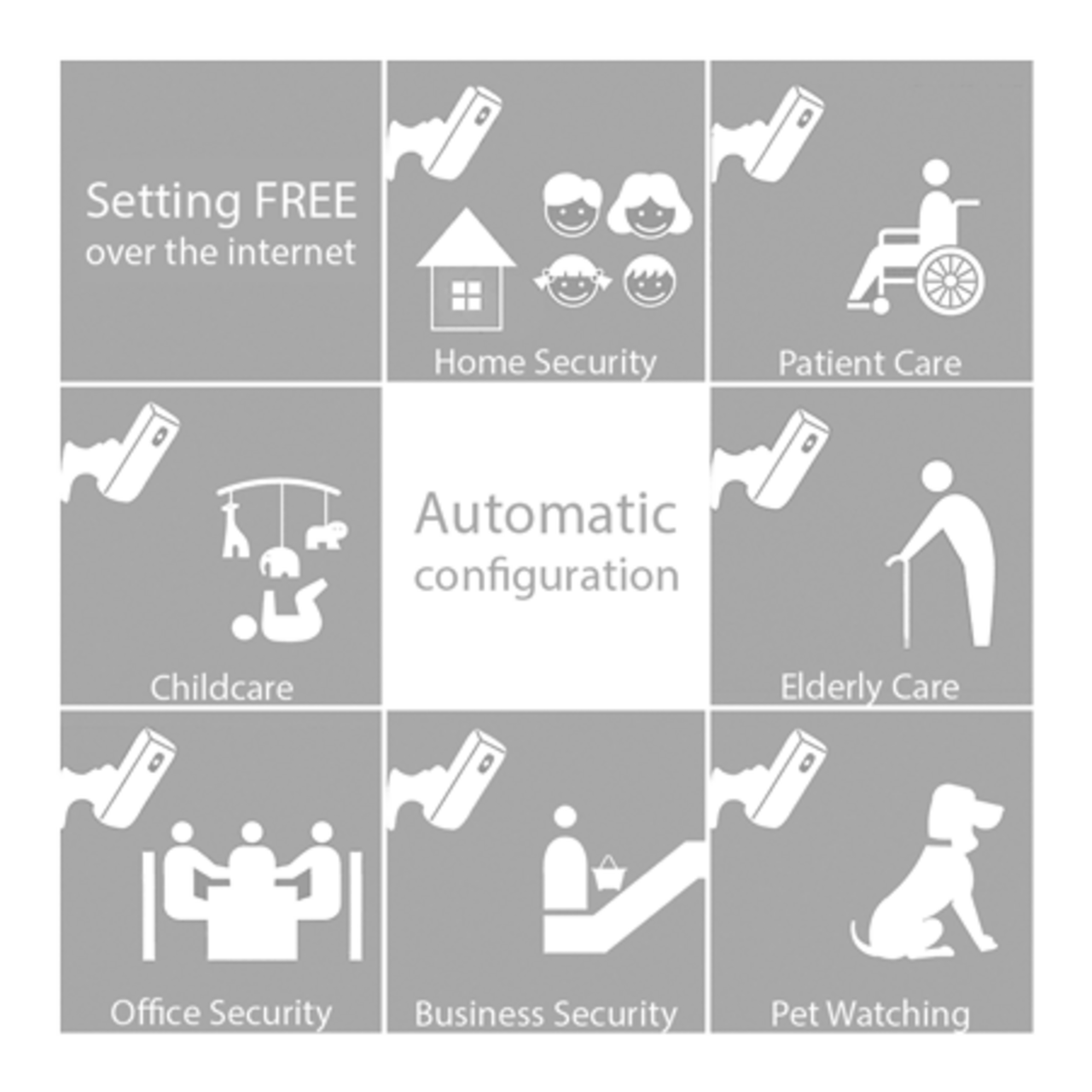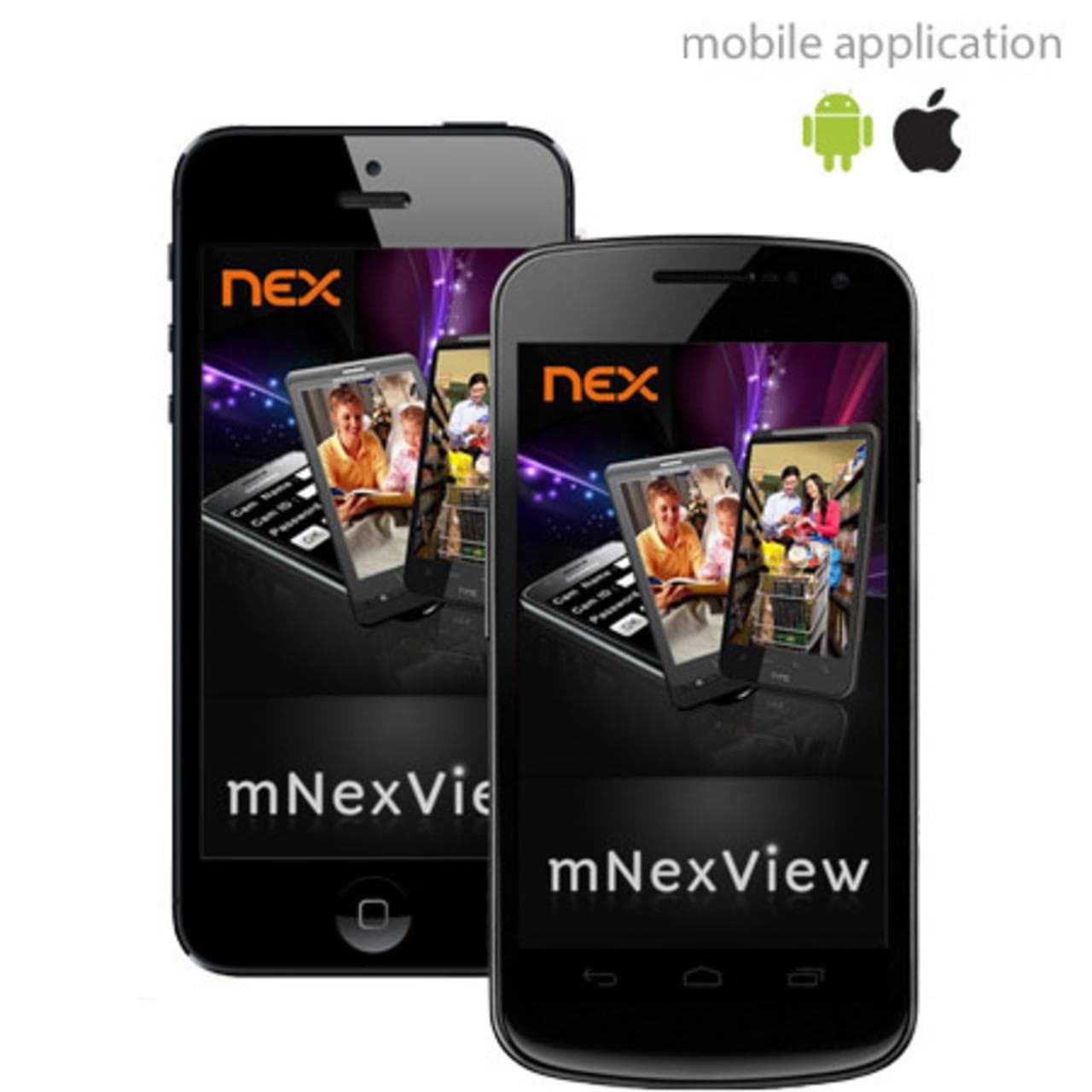 Record how and what you need.
The NEX Gatekeeper gives you the flexibility to record either to a micro SD (not included) securely installed inside the camera, a NAS (Network Attached Storage) or using the included PC software right on your desktop. You can also snap pictures right from your mobile phone.
Wifi connectivity
With the build-in wifi connection it becomes a breeze to monitor your home, shop or gallery from any angle. Simply connect the camera to your existing wifi network.
Access from anywhere
Once the camera is plugged into your router, it's easy to access the live video as well as recordings (on micro-SD) from anywhere in the world without ever having to worry about additional configuration.
Set-up with just a few clicks
Device Overview
What's the difference between IP camera and Web camera?
When you think that you need to buy a network camera so that you could see the video remotely through the Internet. you will go to the store and find out that there are two types of network cameras on shelf. First type is called web camera that is worked by connecting to the personal computer through a USB cable. It's rather cheap. Since the web camera needs a computer connected, it's not flexible for most of the application. The next type is called IP camera that can work along without a personal computer. It's a little expensive. But because it only needs to connect to home network through Ethernet cable or wireless, its flexibility is what you want, so you buy one IP camera.
What's the problem of other's IP camera?
You spend some time to install the IP camera in the home network following the installation guide. After some effort, you will be able to see the video on your PC or notebook computer. It's exciting. You then want to see the video outside your house. Anyway, you can not see the video outside your house. You then check the installation guide and user manual of the IP camera. You will find out that you need to do some complicated configurations on your home NAT/router device, like DDNS setting, port mapping or virtual server settings. Otherwise, you need to apply for a fixed IP service from the Internet Service Provider (ISP) and re-install the IP camera again. If you have ideas about NAT/router devices, it's possible that you could finally make it work after many hard works. But in most cases, you will give up because it's too complicated.
What's the benefit of NEX's IP camera?
We know your trouble and we know how to solve this. It's very easy from the first step of installing NEX's IP camera to the last step of seeing the video outside your house. After the IP camera is connected to the home network, you can then run the accompanied NexView software to auto-search the IP camera and double click it to see the video. When you are outside your house, you only need to key-in the unique ID number of the IP camera and its password on the NexView software to see the video. You don't need to do any modification on your home NAT/router device or apply for a fixed IP service. And you can install the IP camera in your home network, either it's connected to ADSL or cable modem. It's just this easy.
In summary, the benefits of NEX's IP camera are the following
In summary, the benefits of NEX's IP camera are the following
Public IP address needed? No
Dynamic DNS needed? No
Port mapping in router? No
irtual server in router? No
UPnP support in router? No
What's needed? ID and Password only
Specification
NEX Gatekeeper
NEX Gatekeeper Pro
Lens
1 Lens: 3.2 mm Daylight
1. Lens: 3.2 mm, F2.0 Day
2. Lens: Night mode
Image Sensor
1/4" CMOS Sensor
1/4" CMOS RGB VGA
Light sensitivity
0.2 Lux
0 Lux with 10 meters IR leds on
Software
NEX; PC, Android, iPhone, iPad
NEX; PC, Android, iPhone, iPad
Web access
Management trough browser (IE/Firefox/Safari/Chrome)
Management trough browser (IE/Firefox/Safari/Chrome)
36CH Management on Windows
36CH Management on Windows
Max no. of Cameras
up to 36
up to 36
Max. No. of Users
Up to 20 simultaneous unicast users
Up to 20 simultaneous unicast users
Wireless
802.11g WEP/WPA/WPA2
802.11b/g/n WEP/WPA/WPA2
WPS (WiFi Protected Setup)
Ethernet
10BaseT/100BaseTX, Auto-MDIX, RJ-45
10BaseT/100BaseTX, Auto-MDIX, RJ-45
Format
MPEG4
H.264
Events
Events Triggered by Motion Detection; Notification / Upload of JPEG Images over ftp / e-mail
Push notification on mobile for PIR and sound detection; Email / ftp alarm message for PIR and sound detection
Storage
up to 32GB MicroSD Card
up to 32GB MicroSD Card
NAS (network attached storage), Record on PC
NAS (network attached storage), Record on PC
Resolution
640 x 480 (VGA), 320 x 240 (QVGA), 800 x 480
640 x 480 (VGA)
Frame rate
5, 10, 15, 20, 25, 30fps
1~5, 10, 15, 20, 25, 30 fps
Bandwidth
64k, 128k, 256k, 512k, 768k, 1M, 1.2M, 1.5M bps
64k, 128k, 256k, 512k, 768k, 1M, 1.2M, 1.5M bps
Input/Output
Microphone, Sound Recording
Two-Way Communication
Size
118mm(H) x 59mm(W) x 20mm(D)
95mm(H) x 68mm(W) x 25mm(D)
Weight
155 g incl. camera bracket
280 g incl. camera bracket
Power
12V DC, 1A
DC 12V, 1A or 5V, 1A
Box Content
Gatekeeper, Power adaptor, camera bracket, RJ45 Ethernet cable; Quick installation guide; CD with Software & User Manual, ID/Password card
Gatekeeper Pro, Power adaptor, camera bracket, RJ45 Ethernet cable; Quick installation guide, CD with installation software; User's Manual, ID/Password card
Codename
IP01W
IP02W
Operation
0-50°C; Humidity 20 – 80% RH (non-condensing)
0-50°C; Humidity 20 – 80% RH (non-condensing)
Warranty
1 Year
1 Year
Product Page
Product Page
*EMC - CE, FCC Part 15 Subpart B Class B; Wireless RF - CE, FCC Part 15 Subpart C; Power supply: CE, FCC, UL, EN 60950